The Gathering 2018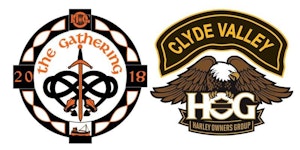 Friday 8th to Monday 11th of June 2018.
Rally Pack Tickets Now on Sale Here!
The Gathering 2018 has been confirmed at Hunters Quay Dunoon PA23 8HP.
Early Bird Tickets For Clyde Valley Members ONLY will be on Sale from Midnight on the 3rd of Nov to Midnight on the 26th Nov.
Keep an eye out for a CVH Text and email with Details. (The Link to the Ticket Sales will only be available to Members and will only be available in the Email and Text Message sent to you)
Once the early bird ticket period is complete Atandard Rally pack Tickets will be available for General sale.
Standard Rally Pack tickets are £30.00 per Adult (Inc Rally Pack) and Kids 15 and under go free (No rally pack on Kids free tickets)
Rally pack Tickets are only available up until Midnight on the 31st of March 2018.
Remember to allow 24 hours after you buy your ticket before you book your accommodation to allow the admin to get the order details to Argyll Holidays.
From the 1st of April Tickets will still be available at £32.00 but without Rally pack.
As normal to secure your accommodation, first book your Rally tickets via Eventbrite, wait 24 hours to allow the sales data base to update and then call the Argyll Holidays booking number 0845 459 9772. You will be need your booking number on your ticket to secure your accommodation.
activities officers are working hard to secure the bands for next year and we will announce this once they are confirmed.
Hope to see you there!!
Event Details
8th - 11th June 2018
Hunter Quay Holiday Village, Dunoon, Argyll PA23 8HP.
Clyde Valley HOG is proud to host the 14th
Annual Gathering.
Building on last yearsrally, we promise to offer the bigger and better experience hopefully with a little less rain!
- EXCLUSIVE use of all leisure facilities
- Luxury lodge and residential caravan accommodation sleeping up to 6*
- Limited number of motorhome pitches, enquire when booking
- Our flag ship 'SEVEN LOCHS' rideout in the Highlands of Scotland covering the most spectacular routes.... anywhere!
- Full 3 nights of live bands and entertainment
- Chapter Challenge!
- Ride in Custom Bike Show
- Loudest Pipes Competition
- Whisky Tasting
- And much, much more!
Accommodation Rates
3 nights self-catering accommodation arriving

Friday 8th June 2018

Discounted Rate if booked by 28th February 2018
Standard Rate From 1st March
Extra night

Jura Comfort Plus (2 Bedrooms, sleeps 4)

£247.00

£270.00

£42.00

Jura Comfort Plus (3 Bedrooms, sleeps 6)

£252.00

£273.00

£42.00

Accessible Jura Premier Caravan (2 Bedrooms, sleeps 4)

£260.00

£279.00

£44.00

Jura Premier (2 Bedrooms, sleep 4)

£260.00

£279.00

£44.00

Jura Premier (3 Bedrooms, sleep 6)

£267.00

£285.00

£45.00

Rowan Comfort Lodge (2 Bedrooms, sleeps 4)

£267.00

£294.00

£45.00

Rowan Comfort Plus Lodge (2 Bedrooms, sleeps 4)

£290.00

£324.00

£49.00

Beech Comfort Lodge (3 Bedrooms, sleeps 6)

£306.00

£333.00

£51.00

Beech Comfort Plus Lodge (3 Bedrooms, sleeps 6)

£334.00

£375.00

£56.00

Rowan Premier (2 Bedrooms, sleeps 4)

£435.00

£480.00

£73.00

Beech Premier (3 Bedrooms, sleeps 5)

£481.00

£528.00

£81.00

Oak Premier (2 Bedrooms, sleeps 4)

£590.00

£648.00

£99.00

Oak Premier (3 Bedrooms, sleeps 6)

£655.00

£735.00

£110.00

Oak Premier (4 Bedrooms, sleeps 8)

£780.00

£867.00

£130.00

Oak Platinum (4 Bedrooms, sleeps 8)

£860.00

£981.00

£144.00

Rates above do not include applicable energy charge (additional £5 per day per unit)
Additional nights available as indicated above.
* Please Note, this is a residential event only, no camping or touring caravans are permitted. A limited number of pitches are available for motorhomes.
Accommodation is solely provided by Argyll Holidays at their Hunters Quay Holiday Village. Lodges and Residential Caravans (each sleep either 4 or 6) can only be booked once a Rally Ticket has been purchased via this site. A ticket will be available to print at the end of the process. The unique ACCOMMODATION BOOKING NUMBER under the barcode must be quoted when reserving your Lodge / Caravan with Argyll Holidays on 0345 459 9772(Visit Argyll Holidays website at www.argyllholidays.com to view facilities and accommodation types). Please allow 24hrs before booking accommodation.
Specially discounted rates have been negotiated and are available ONLY on this telephone number. Caravans start at £247 and Lodges from £267 (£15 fuel charge extra) A £50 deposit is required at the time of booking your accommodation with the balance due by 27th April 2018. (6 weeks prior to the Event) . All accommodation transactions are between the individual and Argyll Holidays Ltd and Clyde Valley HOG cannot accept any responsibility in these transactions. All Rally ticket sales are 'final' and costs and fees cannot be refund.